Zooter
Character Information
| | |
| --- | --- |
| Gender: | Female |
| Species: | Pig |
| Age: | 7 |
| Friends: | Ellyvan (best friend), Bungo, Crocker, Toadhog, Dozer, Carla, Hippobus, Lance, Mrs Jolly, Taxicrab, The Beetlebugs, Bobby |
| Voiced by: | Janet James |
[[Category:{{{show}}} Characters]]


Zooter is the main protagonist of Jungle Junction
Personality
Zooter is energetic, who is the jungle messenger. She lives in the town in a treehouse. Everyone knows Zooter, she has a real 'can

do' spirit and always keen to help. The speediest of the jungle inhabitants, she's running errands and spreading the latest news and gossip.

She knows the jungle inside out and uses a bewildering network of shortcuts that only she understands. She likes nothing better than whiling away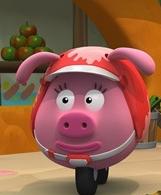 her spare time with her long term Partner Ellevan having just graduated from MissJolly school as the 3rd beetlebug
Looks
Zooter is pink and is a piglet scooter, with a British accent, she's cute, friendly, full of energy, Zooter and Ellyvan are now engaged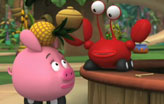 Gallery
For more pictures and screenshots of Zooter, click here.New Baby for Ellyvan and Zooter now known as (Spotty)
Ad blocker interference detected!
Wikia is a free-to-use site that makes money from advertising. We have a modified experience for viewers using ad blockers

Wikia is not accessible if you've made further modifications. Remove the custom ad blocker rule(s) and the page will load as expected.