Toodles
Character Information
| | |
| --- | --- |
| Gender: | Male |
| Show: | Mickey Mouse Clubhouse |
| Species: | Gadget |
| Friends: | Mickey Mouse, Quoodles (love interest) |
| Voiced by: | Rob Paulsen |
Toodles will come all the time with all the right tools. The mouskatools do not always work and the friends will sometime have to do it themselves. In Toodles' Birthday, it was revealed that he was invented by Donald's uncle, Professor Ludwig Von Drake. He started life as an alarm clock before he grew up into a large flying Mouskatool kit.
Episodes that he is an major character
His Birthday
It was shown the friends really cared about Toodles in episode Happy Birhday Toodles when Mickey, Donald, Goofy, Minnie, Daisy, Pluto and Pete together threw Toodles a big surprise party. He got lots of presents. But The Goal of the Gang was to Distract him while planning his Surprise Party
A Space Mission
It was shown that he is in love with Quoodles.
Gallery
For more pictures and screenshots of Toodles, click here.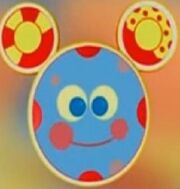 Ad blocker interference detected!
Wikia is a free-to-use site that makes money from advertising. We have a modified experience for viewers using ad blockers

Wikia is not accessible if you've made further modifications. Remove the custom ad blocker rule(s) and the page will load as expected.