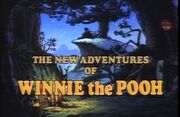 The New Adventures of Winnie the Pooh is an American Saturday morning animated children's television series produced by Walt Disney Television that ran from January 17, 1988 to October 26, 1991, inspired by A. A. Milne's Winnie-the-Pooh stories. It has been released on VHS and DVD.
Characters
Episodes Guide
Ad blocker interference detected!
Wikia is a free-to-use site that makes money from advertising. We have a modified experience for viewers using ad blockers

Wikia is not accessible if you've made further modifications. Remove the custom ad blocker rule(s) and the page will load as expected.