This multi-instrumentalist works the controls in the recording studio. He is the Imagination Movers' drummer on the TV show, but plays guitar, bass and occasionally drums in concert. His drum sticks double as "Scribble Sticks," which he uses to draw words and pictures on the TV screen.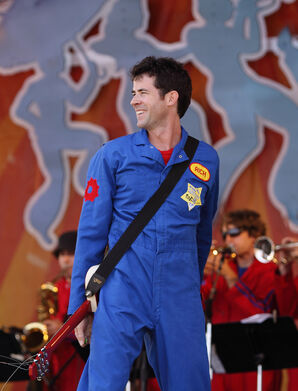 Originally from the Washington, D.C. area, Collins graduated from The Catholic University of America and relocated to New Orleans in the early 1990s to form a rock band, Dubly.[11] The husband and father of five lost his home in 2005 during Hurricane Katrina. Before the formation of The Imagination Movers, Collins was a journalist.
Ad blocker interference detected!
Wikia is a free-to-use site that makes money from advertising. We have a modified experience for viewers using ad blockers

Wikia is not accessible if you've made further modifications. Remove the custom ad blocker rule(s) and the page will load as expected.