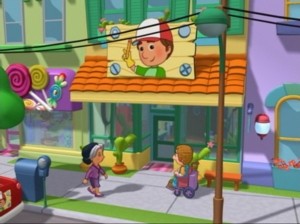 Summary
Leonard Lopart is the manager and owner of the store. In the episodes, the store is said to be ten years old.Mr Lopart 's store is said to be the best candy store in Sheetrock Hills, It's right nexts to Manny's Repair Shop.
Looks
It's purple ad it has a big lollipop at the sign, in other episodes Mr Lopart dresses the sop up so I can't really describe every episode that he dressed up the store, Sorry!
Ad blocker interference detected!
Wikia is a free-to-use site that makes money from advertising. We have a modified experience for viewers using ad blockers

Wikia is not accessible if you've made further modifications. Remove the custom ad blocker rule(s) and the page will load as expected.