Minnie Mouse
Character Information
Minnie Mouse is the wife of Mickey and a friend of Daisy on Mickey Mouse Clubhouse.
Personality
Minnie is described as a sweet and very beautiful girly girl and loves to wears dresess, Minnie wears loads of bows and had a bow party. Her dress can appear in pink or red and many other colors.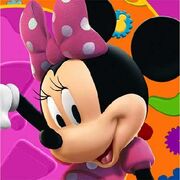 Species
Thin tailed black Mouse
Looks
She wears a red polka-dot dress, or seen pink in Mickey Mouse Clubhouse and frilly white pantes , She has a red bow and yellow high-heels with White gloves.
Gallery
For more pictures and screenshots of Minnie Mouse, click here.
Ad blocker interference detected!
Wikia is a free-to-use site that makes money from advertising. We have a modified experience for viewers using ad blockers

Wikia is not accessible if you've made further modifications. Remove the custom ad blocker rule(s) and the page will load as expected.