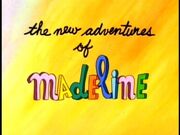 In 1960, the Madeline stories were adapted to a one-hour color episode for the NBC series The Shirley Temple Show. In 1988, DIC Entertainment and Cinar adapted the first book into an animated television special for HBO.[8] Between 1991 and 1992, Cinar and France animation produced animated adaptations of the other five original books for The Family Channel,[8] In 1993, DIC produced a Madeline television series of twenty episodes, which also aired on the Family Channel,[8] and in 1995, an additional 14 episodes were produced by DIC for ABC, under the title The New Adventures of Madeline.[8] In 2000, DIC produced 26 episodes for the Disney Channel.
12 Little Girls Characters
Good Characters
Ad blocker interference detected!
Wikia is a free-to-use site that makes money from advertising. We have a modified experience for viewers using ad blockers

Wikia is not accessible if you've made further modifications. Remove the custom ad blocker rule(s) and the page will load as expected.