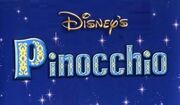 The Disney classic character, Pinocchio and his friends are back! They have a great new songs to sing, dance, laughter, play along, and dreams really do come true. Don't miss the new Disney classic TV show! And Coming soon January 2016 on Disney Junior!!!
Episodes
Theme Song
The program's theme song was written by Spice Girls. It was generally aired at the beginning of most episodes, but was replaced by other music or songs on some dvd releases.
Sample Lyrics
When you wish upon a star Makes no difference who you are Anything your heart desires Will come to you. If your heart is in your dream No request is too extreme When you wish upon a star As dreamers do. Fate is kind She brings to those who love The sweet fulfillment of Their secret longing.
Like a bolt out of the blue Fate steps in and sees you through. When you wish upon a star Your dreams come true.
Good Characters
Bad Characters
Ad blocker interference detected!
Wikia is a free-to-use site that makes money from advertising. We have a modified experience for viewers using ad blockers

Wikia is not accessible if you've made further modifications. Remove the custom ad blocker rule(s) and the page will load as expected.