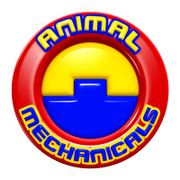 Animal Mechanicals theme song always starts at the beginning of an episode
Characters Singing
Lyrics
Animal Mechanicals we animal Mechanical can, thumb|442px|right
Rex: Rex! Mechana Strong!
Unicorn: Unicorn, Mechana Fly!
Komodo: Komodo, Mechana Gizmo
Mouse: Mouse, Mechana Fast!
Sasquatch: Sasquatch, Mechana Stretchy!!!
Animal Mechanicals! Mechana can we do it?
We Animal Mechanical can, We Animal Mechanical Can!
Ad blocker interference detected!
Wikia is a free-to-use site that makes money from advertising. We have a modified experience for viewers using ad blockers

Wikia is not accessible if you've made further modifications. Remove the custom ad blocker rule(s) and the page will load as expected.